Have A Heart This Valentine's Day: Support Healthcare For All!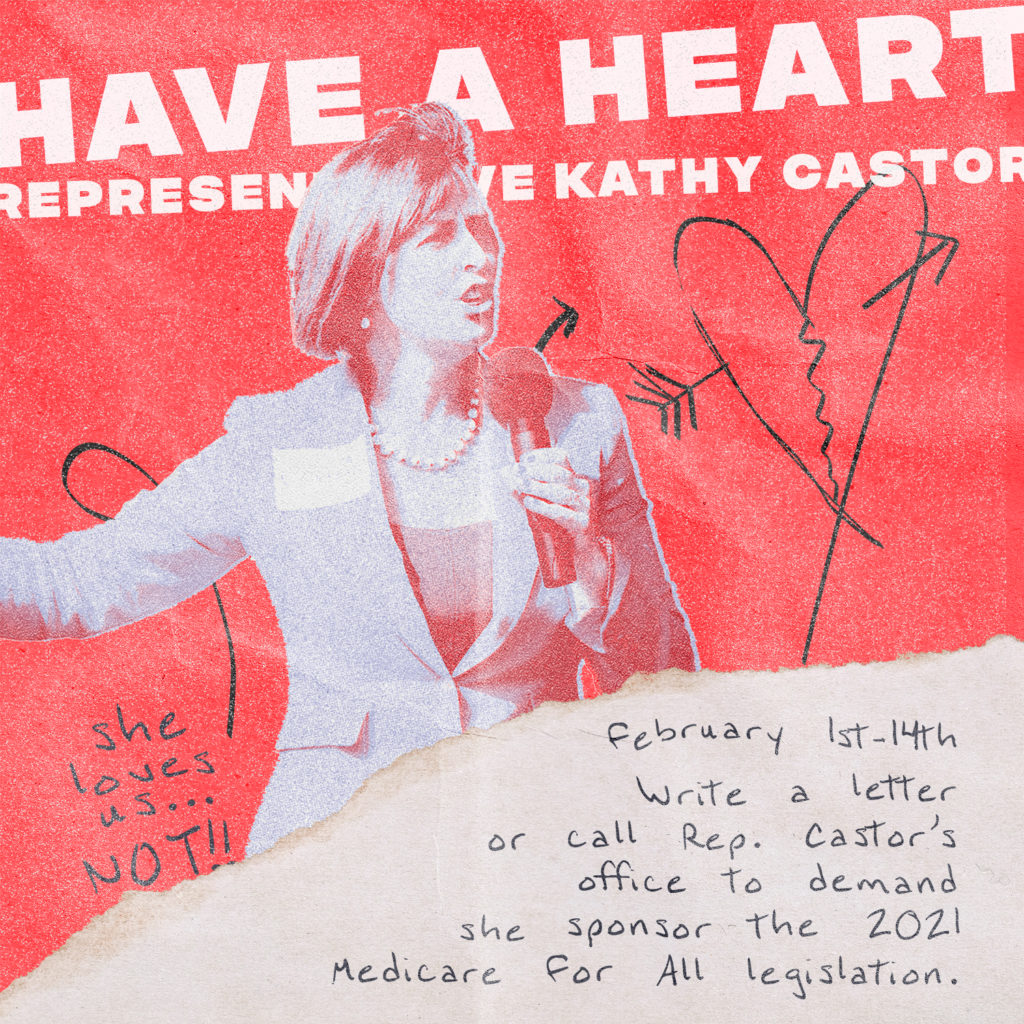 WHEN: Feb 1—Feb 14, 2020
WHERE? Anywhere and everywhere
Mail to:
Representative Kathy Castor
4144 N Armenia Ave, Tampa, FL 33607
Suite 300
Tampa, Florida 33607
Call: (813)-871-2817 (Office)
Fax: (813) 871-2864 (Office)
RSVP on Facebook 🌹
This Valentine's Day, join Tampa DSA as we write to House Representative Kathy Castor (D-14) to ask that she "have a heart" and become a cosponsor of the upcoming 2021 Medicare For All legislation!
US House Rep. Castor was one of the founding members of the Medicare for All Congressional Caucus in 2018. She supported the 2017 Medicare For All House Bill (HR 676).
In 2019, she reversed course and chose not to cosponsor the 2019 Medicare for All House bill. When confronted, she evaded healthcare activists who challenged her reversal.
Is it because she received $10,000 in campaign contributions from the American Hospital Association PAC in 2019, which opposes Medicare For All? Or the $14,000 she's received from the American Medical Association since 2018? The $2,500 she received from the Cigna Corporation's PAC? Maybe it's the thousands of dollars she's received the latest "army" of healthcare giants built to lobby against Medicare for All, including the American Health Insurance Plans, Inc PAC; HCA Healthcare; and the National Association of Health Underwriters PAC? 🤨
The Federal Election Commission (FEC) site has the receipts!
We hope these donations haven't influenced Rep. Castor's decision-making when it comes to supporting healthcare policies that would dramatically improve the health and well-being of her constituents, as well as address issues of health disparities in Tampa Bay and nationwide.
Why should Rep. Castor renew her support for Medicare For All?
More than 14 million Americans have lost their health insurance since March. In Florida, more than 600,000 adults became uninsured due to job losses between February and May of 2020—a 24% increase above uninsured Florida adults in 2018—according to data from the National Center for Coverage Innovation at Families USA. An estimated 25% of Florida adults total were uninsured last July.
Medicare For All is supported by an estimated 69% of voters, (nice) including 88% of Democrats, 46% of Republicans, and 68% of Independents. What can we say? Universal healthcare coverage with zero copays, deductibles, or premium costs is a popular policy.
Medicare For All will provide: 1) a single health program 2) comprehensive coverage for medical, dental, vision, mental health, pharmaceutical, and reproductive health services 3) free at the point of service (no copays, no premiums, no deductibles) 4) universal coverage for all U.S. residents, including undocumented immigrants 5) jobs initiative and severance for those impacted by the transition to a single-payer system
Medicare For All is a racial justice issue. The COVID-19 pandemic is disproportionately killing communities of color. State-sanctioned violence, socio-economic and environmental factors, along with co-morbidities rooted in the for-profit healthcare system, account for the disproportionate deaths from COVID-19 among people of color. We must create a culturally competent healthcare system that listens to and honors the experience of Black and brown patients. Medicare For All can lay a foundation for us to achieve that.
Medicare For All puts people over profits. If we want to save lives and beat COVID, we must put patients and healthcare workers over the profits of insurance and drug companies.
President Biden's proposed lowering of the Medicare eligibility age to 60 would make it available to 20 million additional Americans but Medicare itself needs to be expanded and improved. Decreasing the eligibility age for Medicare would increase the healthcare security for millions without undermining the social insurance model that sustains Medicare. However, Medicare itself has significant gaps in coverage and needs to be modernized and improved to eliminate the necessity of private supplemental insurance while enhancing prescription drug coverage and adding dental, long term care and other essential services.
Medicare For All is a winning issue. Several Florida Democrats lost seats in Congress last November, but not a single Cosponsor of the Medicare for All Act across the country was defeated. Medicare for All is popular, actually, and will demonstrate Rep. Castor's support for reforming our healthcare system into one that works for ALL.
What to Say in Your Valentine's Day Card
What should you say in your Valentine's Day card to Representative Kathy Castor? You're welcome to share the information we have here, if you want. But we also encourage you to share your own story!
Why do *you* support Medicare For All? Has our healthcare system caused you or a loved one to go into debt, lose access to medical treatment, or affected your ability to seek medical, dental, or mental health treatment?
Everyone has a healthcare horror story, and that's the problem.
We're stronger when we stand and speak together. Join us by writing, calling, or emailing Kathy Castor to ask that she become a cosponsor of the upcoming 2021 Medicare For All legislation. (Personally, we support letters that can't be deleted with a simple click!)
The More You Know
This letter-writing campaign is inspired by healthcare activists in North Carolina. From the book Fragmented Democracy by Malaika Jabali:
"On Valentine's Day in 2017, hundreds of activists in North Carolina called for lawmakers to 'have a heart,' delivering thousands of individually signed 'Valentines' to two Republican senators asking them to expand Medicaid and protect the ACA."
Note: Some of the information shared in this call-to-action has been lifted from DSA Medicare For All's 2021 Organizing Guide.
In solidarity,
Tampa DSA's Health Justice Working Group