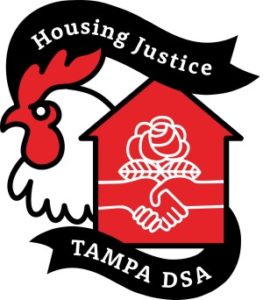 Learn more about the Housing Justice Working Group
Interested in learning more about the working group? Complete our onboarding form to have a member of our onboarding team reach out to you!
Means of contact
Email: housingjustice.tdsa@gmail.com
Introduction
Tenants are in a unique position under capitalism. Our subjugation knows no bounds; we experience the full front of the violence that is the nature of capitalist hegemony in our homes. There is no escape from violence for a tenant. We live in a constant state of fear that any deviation from our landlord's arbitrary rules will result in our eviction. We have no control over our homes; these conditions are in need of abolition.
The origin of these conditions however, is not a function of simple city-mismanagement or political factions. The origin of our exploitation is the private property relations of capitalism itself. It is this relation that creates the subjugation of Tampa's residents in the form of tenancy. It is this relation through which classist, heteronormative, racist, ableist, and sexist antagonisms enter our homes. Recognizing our adversary, the members of Tampa DSA have called for the establishment of a housing justice working group. Through this working group, we will seek the abolition of the capitalist landlord-tenant relation, the housing of all the county's residents, or desired residents, the organization of a militant and conscious tenant class, and the accumulation and distribution of resources and information related to housing to/for the community. We seek all of this to achieve our principle aim of the realization of the tenant-class power in Hillsborough County.
Our points of unity
We define a tenant as anyone who does not have control over their housing, and does not control someone else's housing. This includes unhoused tenants, tenants who are squatting, tenants inside the carceral punishment system, tenants in nursing homes, in university housing, in state institutions, and tenants with mortgages1
We recognize that tenants will always be subjugated and exploited under the capitalist system. To end our repression, we must abolish capitalism. All our efforts must be directed at progression toward this end
The lie of "good landlords" inhibits the progress of socialist formations. We reject this lie. We recognize that the interests of tenants and landlords are fundamentally irreconcilable. We recognize that all landlords commodify housing, and as such all landlords are in need of abolition
We recognize the difference between accessing power, and building it. Accessing power forces us into accepting the rules of the state, whereby we lose vital forms of political struggle to comply with the arm of capitalism. Building power means organizing mass formations of the working class that reject and fight back against capitalist hegemony. We make demands of capital and the state when doing so organizes us as a class. We cannot slip into strictly advocacy or service work, as freedom for tenants requires the working class to rise up and create a new society, collectively
We recognize the need to fight for anti-discrimination in housing practices. Tenancy is used by capitalists to expand the repression of BIPOC and LGBTQIA2S+ persons. It is no coincidence that these groups are overrepresented among tenants
We recognize the limitations of the current juncture. DSA, nor any left formation, does not possess at this point in time what is required to abolish capitalism. We recognize the need to build formations of tenants to fight back against their oppressors
We fight for a world where people are free to exercise control and agency over their own housing. We fight for a world where all people can not only live, but thrive in their neighborhoods and living spaces. We fight toward the period of revolutionary transformation, where we can finally live free with autonomy in communities of mutual care and cooperation
Want to be more plugged in to the day-to-day of our group? Look for upcoming events, plug in to our working group meetings, and join our Discord server to share ideas, interests, and skills you'd like to contribute! Join DSA
---
1 Definition crafted based on the Autonomous Tenants Union Network: Points of Unity.