Political Education Working Group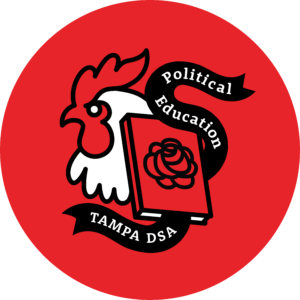 The Political Education Working Group is dedicated to developing a long-term political vision for our chapter that reflects the values and concerns of our membership. We organize socialist Night School events, reading groups, new member orientations, guest lectures, film screenings, and more. Through our educational events, we aim to bridge the gap between theory and action and equip our members with the theoretical knowledge and practical skills to effectively organize and advance our movement. We believe that a rigorous political education program is an essential part of engaging in class struggle and building working class resistance to the power of capital.
Tampa DSA Night School
The Tampa DSA Night School is a political education series where we learn about and discuss topics related to socialist history, thought, and strategy. Our sessions are open to members and non-member alike. Look out for our upcoming sessions in our calendar!